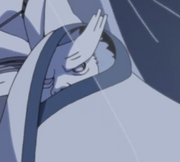 Kinšiki Ocucuki (大筒木キンシキ, 
Ōtsutsuki Kinshiki
)  je poslušnik Momošikija. On se pojavljuje u Boruto: Naruto Filmu.
Sposobnosti
Pošto je ogroman, Kinšiki je bio vrlo sposoban blizinski tip borca, koji je bio u stanju da se suoči sa Saskeom Učihom koristeći crveni kanabo. Sa svojim gigantskim telom, on je bio sposoban da nosi Momošikia na svojim ramenima sa lakoćom.Koristeći nepoznate metode Kinšiki je mogao da leti.
Dojdžicu
Bjakugan
Kinišiki ima Bjakugan u oba oka, tako da ima vid blizu 360 stepeni, može da vidi x-zrake i sposobnost da vidi protivnikov Čakra sistem.
Epilog
Boruto: Naruto Film
Kinšiki će se pojaviti u ovom filmu.
Ad blocker interference detected!
Wikia is a free-to-use site that makes money from advertising. We have a modified experience for viewers using ad blockers

Wikia is not accessible if you've made further modifications. Remove the custom ad blocker rule(s) and the page will load as expected.