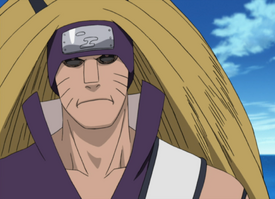 Kinkaku je bio poznat šinobi sela Oblaka, zajedno sa svojim bratom bili su poznati kao Zlatna i Srebrna braća.
Pozadina
Zlatni i srebrni brat su bili najozloglašeniji kriminalci u istoriji Sela sakrivenog u Oblacima. Dok su bili članovi sela Oblaka, bili su poslati na misiju da uhvate Devetorepu lisicu. Mislija nije uspela, a oni su tokom borbe sa Devetorepom bili progutani, Preživeli su jer su jeli meso Devetorepe, koja ih je posle dve nedelje ispljunula. 
Tokom ceremonije mirovnog ugovora između Hokagea sela lista i Raikagea sela oblaka, braća su upala i skoro ubila drugog hokagea. 
Tokom svog života Kinkaku se sreo sa Kakuzuom.
Zanimljivosti 
-Kinkaku doslovno znači Zlatni rog.
-Kinkaku i Ginkaku su bili dugo poštovani kao blistava svetlost sela u Oblacima, ali kasnije po rečima Daruia postali su simbol sramote sela Oblaka. 
-Braća su posedovala simbol trećeg Raikagea i pre Kuramine čakre.
-Nakon pečaćenja protivnika u Benišago, Kinkaku je govorio: Ćutanje je zlato.
-Kinkaku i Ginkaku su hramovi u Kijotu (Kyōto), Japan.
Ad blocker interference detected!
Wikia is a free-to-use site that makes money from advertising. We have a modified experience for viewers using ad blockers

Wikia is not accessible if you've made further modifications. Remove the custom ad blocker rule(s) and the page will load as expected.