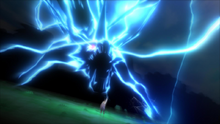 Kirin je ekstremno moćna tehnika S-Ranga, munjevitog stila kreirana od strane Saskea Učihe. On privlači munje iz oblaka i pomoću svoje čakre ih obrazuje u džinovsku zver nalik lavu. Ukoliko na nebu nema oblaka, Saske može sam da ih kreira korišćenjem vatrene tehnike. Pošto Saske koristi munje iz prirode, a ne njegovu čakru ovo je jedna od najačih munjevitih tehnika.
Ad blocker interference detected!
Wikia is a free-to-use site that makes money from advertising. We have a modified experience for viewers using ad blockers

Wikia is not accessible if you've made further modifications. Remove the custom ad blocker rule(s) and the page will load as expected.