Kizaši Haruno

春野キザシ Haruno Kizashi
Pojavljivanje
Anime
Naruto Šipuden Epizoda #271
Film
Road to Ninja: Naruto the Movie
Pojava
Anime, Film
Informacije
Pol
Muški
Visina
Deo I: 184.4 cm
Selo
Selo Lišća
Nindža Rank
Rank
Deo II: Genin
Porodica
Sakura Haruno (Ćerka)

Sarada Učiha (Unuka)

Mebuki Haruno (Žena)

Saske Učiha (Zet)
Kizaši Haruno
(春野キザシ, Haruno Kizashi) je šinobi
Sela Lišća
.
Pozadina
U animeu, kada je saznao da će Kakaši Hatake učiti njegovu ćerku, posetio je Kakašija i trećeg Hokagea sa svojom ženom. Oboje su bili pozvani na čaj.
Ličnost
Hizaši je veoma vesela i harizmatična osoba, često se šalio sa onima oko njega i koristio igru reči, zbog koje sa vremena na vreme iznervira svoju ženu, Mebuki.
Koncept Kreacije
Iako se nije pojavljivao u mangi, Kizašijev lik i dizajn je stvorio Masaši Kišimoto lično, jer je i sam učestvovao u pravljenju filma Put do Nindže: Naruto Film. Kišimoto je naveo da je oduvek želeo da ih stavi u glavnom serijalu, ali nije mogao da nađe pravo vreme za to.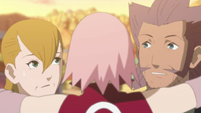 Ad blocker interference detected!
Wikia is a free-to-use site that makes money from advertising. We have a modified experience for viewers using ad blockers

Wikia is not accessible if you've made further modifications. Remove the custom ad blocker rule(s) and the page will load as expected.