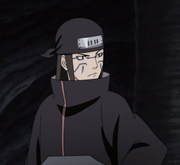 Kjusuke je bio šinobi iz sela kiše i jedan od članova originalnog 
Akackija
.
Pozadina
Kjusuke i nekoliko bivših članova Akackija su bili Hanzovi ljudi, pa su ga napustili i pridružili se Akackiju. Kjusuke se u nekom trenutku u prošlosti(kada nije bio član Akackija) borio protiv Jahika, Nagata i Konan. Kjusukea i sve ostale bivše članove Akackija su ubili Obito i Zetsu.
Zanimljivosti
Kjusuke je bio jedan od najboljih mačevalaca sela kiše i Akackija.
Kjusuke je poznavalac Lava stila, Zemljanog stila i Vatrenog stila.
Ad blocker interference detected!
Wikia is a free-to-use site that makes money from advertising. We have a modified experience for viewers using ad blockers

Wikia is not accessible if you've made further modifications. Remove the custom ad blocker rule(s) and the page will load as expected.