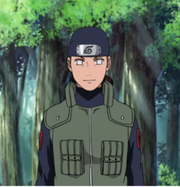 Ko je šinobi iz Konohe.
Pozadina
Ko je Hinatin telohranitelj dok je njen otac odsutan iz sela.
U animeu je prikazano da je on bio njen telohranitelj od detinjstva. Njegova dužnost je bila da pazi na nju dok je na akademijim, često joj je govorio da se ne druži sa Narutom. Jednom u njenom prisustvu je pomenuo devetorepu lisicu, a kada ga je ona ispitivala o tome, on joj je rekao da nebrine o takvim stvarima.
Kao i svi u Hjuga Klanu, Ko ima kekei genkai, Bjakugan.
Ad blocker interference detected!
Wikia is a free-to-use site that makes money from advertising. We have a modified experience for viewers using ad blockers

Wikia is not accessible if you've made further modifications. Remove the custom ad blocker rule(s) and the page will load as expected.