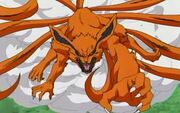 Kombinovana transformacija je napredni oblik tehnike transformacije. Ova tehnika transformiše dva bića u jedno. U slučajevima kada jedan korisnik nije u stanju da izovdi pečate rukom ,on može da obezbedi čakru dok drugi može da izvodi pečate rukom. Ovaj metod koriste Naruto i Gamabunta u borbi protiv Šukakua. Tehniku takođe mogu da koriste i članovi četvorke zvuka, dok su Kiba i Akamaru stvorili sopstvenu variaciju ove tehnike.
Ad blocker interference detected!
Wikia is a free-to-use site that makes money from advertising. We have a modified experience for viewers using ad blockers

Wikia is not accessible if you've made further modifications. Remove the custom ad blocker rule(s) and the page will load as expected.