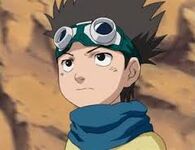 Konohamaru Sarutobi ( 猿飛木ノ葉丸, Sarutobi Konohamaru), je genin iz sela skrivenog u lišću, član je tima Ebisu i Sarutobi klana. Kasnije postaje šinobi. On je unuk trećeg hokagea i sinovac Asume. Konohamaru će biti član tim Ebisu. On će kasnije postati kao njegov idol Naruto Uzumaki.
Sposobnosti
Konohamaru je uspeo da ovlada Rasenganom, kao i tehnikom klonova senke. U animeu može da koristi neke vatrene tehnike kao i tehniku klonova šurikena. Sem toga Naruto ga je naučio kako da koristi Seksi Tehniku.
Pregled priče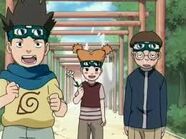 U prvom delu Konohamaru je studen na akademiji i pojavljuje se uglavnom uz njegove prijatelje Udon i Moegi kao i sa Narutom.U drugom delu Konohamaru je maturirao na akademiji i smešten je u tim Ebisu zajedno sa svojim prijateljima Udon i Moegi. Za vreme Pejnove invazije na Konohu spasao je svog senseja i pobedio jedno od pejnovih tela.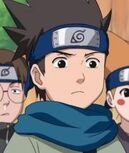 U Boruto filmu Kohohamaru je postao vođa Tima Konohamaru koji se sastoji od Boruta (Narutovog i Hinatinog sina), Sarade (Saskeove i Sakurine ćerka) i Micukija (Oročimaruovog sina).
Zanimljivosti
Kišimoto sensei je u prvim brojevima mange dao skicu olovkom za Konohamarua i njegovog sensea Ebisua.
Ad blocker interference detected!
Wikia is a free-to-use site that makes money from advertising. We have a modified experience for viewers using ad blockers

Wikia is not accessible if you've made further modifications. Remove the custom ad blocker rule(s) and the page will load as expected.