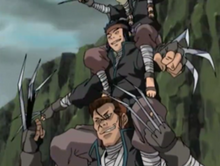 Kurosuki Porodica je zla banda formirana od strane jednog od Sedam mačevalaca magle Rajge Kurosuki. Poznati pripradnici su upravo Rajga, Ranmaru i Karaši. Svi članovi (Osim Rajge i Ranmarua) uopšte nemaju posebne tehnike, i veoma ih je lako pobediti. Kada su preuzeli Katabami Rudnik Zlata kažnjavali su ljude koji ne rade Sahranjivanjem. Kada bi sahranili živu osobu vođa porodice Rajga bi plakao nad sandukom, sećajući se lepih stvari koje bi proveli. Članovi su bili u mogućnosti da koriste tehniku Crni Tornado.
Ad blocker interference detected!
Wikia is a free-to-use site that makes money from advertising. We have a modified experience for viewers using ad blockers

Wikia is not accessible if you've made further modifications. Remove the custom ad blocker rule(s) and the page will load as expected.