Leteći Munjeviti Gospodar
Minatova (levo) i Tobiramina (desno) oznaka za Leteći Munjeviti Gospodar

Ime

Japanski
飛雷神の術, Hiraishin no Jutsu
Engleski
Flying Thunder God Technique, Flying Thunder God Jutsu, Flying Raijin Jutsu

Pojavljivanje

Manga
poglavlje #240
Anime
Naruto Šipuden Epizoda #119
Pojavljivanje
anime, manga

Podaci

Klasifikacija
Nindžicu, Prostorno-Vremenski Nindžicu
Rank
S-rank
Klasa
dopunska
Znakovi rukama
pečat konfrontacije
Korisnici

Tobirama Sendžu Minato Namikaze



Dzicu Leteceg Munjevitog Gospodar (Fluying Rajin, Fluying Thonder God, Hiraishin) je stvorio Tobirama Sendžu (drugi Hokage). Koristili su ga Drugi i Četvrti Hokage. Koristi se tako sto na protivnika staviš oznaku i možes mu prići velikom brzinom, kao da se "Teleportuješ" do njega.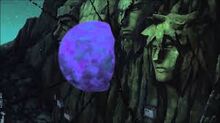 Minato je ovaj Džicu koristio i sa specijalnim Kunai noževima, gde je imao dva nivoa (jedan kada se Kunai zabije, a drugi dok je još u letu). Minato je iskoristio ovaj džicu da prebaci Bombu Repatih Zveri van Sela. Postoje i varijacije kada Minato napravi jednog klona i baci šest Kunaija (igrica
Naruto Shippuden Ultimate Ninja Storm Revolution).
U ovoj igrici Minato može da koristi i varijaciju koja se zove Bog brzine. Tad, kada bi nekog pogodio Kunaijem, odmah bi se stvorio iza ili iznad njega. Tobirama je koristio
Leteći Munjeviti Gospodar Udarac Sečimice
.
Zanimljivosti
Minato i Tobirama su u isto vreme iskoristili dzicu munjevitog gospodara da napadnu Obita.
Ad blocker interference detected!
Wikia is a free-to-use site that makes money from advertising. We have a modified experience for viewers using ad blockers

Wikia is not accessible if you've made further modifications. Remove the custom ad blocker rule(s) and the page will load as expected.