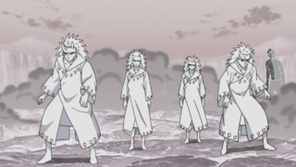 Limbo: Granica zatvora je Tehnika koja je dostupna koristeći moć Rinegana. Korisnik projektuje senku sebe u nevidljivi
svet, Limbo, što je uglavnom nemoguće otkriti. Senka može, i bez korisnikove komande, da napada i onesposobljuje cilj, ili da brani originalno telo od napada. Međutim Naruto Uzumaki, nakon dobijanja moći Mudraca Šest Staza, dobio moć da oseti prisustvo senke, dok je Saske Učiha mogao savršeno da ih vidi svojim Rineganom. Madara je mogao da stvori sa svojim jednim Rineganom, samo jednu senku, ali broj se može povećati, ako se koristi Rinegan u oba oka. Madara takođe može da zaustavi prostor u kome se nalazi senka.
Iako je ova senka praktično neuništiva, pri udarcu od strane moći Mudraca Šest Puteva, može biti oštećena. Loše je i što će nakon nekog vremena da napravi "pauzu" u napadima, i senka koristi samo Tajdžicu.
Zanimljivosti
U Naruto Shippūden: Ultimate Ninja Storm 4 Madarini Limbo klonovi mogu da koriste Susano
Ad blocker interference detected!
Wikia is a free-to-use site that makes money from advertising. We have a modified experience for viewers using ad blockers

Wikia is not accessible if you've made further modifications. Remove the custom ad blocker rule(s) and the page will load as expected.