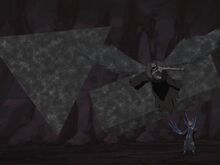 Magnetni stil je kekei genkai koji korisniku omogućava da namagnetiše objekte i čakru prebaci u Magnetnu silu. Članovi više sela poseduju ovaj kekei genkai. Njega je kreirao Treći Kazekage dobivši insdpiraciju posmatrajući prvog Šukakuovog džindžurikija.Bazira se na kombinaciji vetra i zemlje.Korisnici ovog kekei genkaija su: Gara,Šinki,Raša,Naruto,Kađura,Toroi,Treći Kazekage i Šukaku.
Forme
Šukaku može da koristi Magnetni stil preko pečata prokletstva na svom telu.Naruto je uspeo da pripoji Šukakuov Magnetni stil na svoj Rasebgan
Treći Kazekage je umeo da koristi gvozdeni pesak sa svojim magnetnim stilom..U Gara Hidenu Kađura, teroristkinja iz Išigakurea je takođe koristila gvozdeni pesak.U Boruto Filmu Šinki takođe koristi gvozdeni pesak
Rasa je umeo da koristi zlatnu prašinu svojim magnetnim stilom
Toroi je umeo da koristi magnetne šurikene svojim magnetnim stilom
U Gara Hidenu otkriveno je da je Gara nasledio Rasin Magnetni stil samo što je Gara koristio "blistavi metalni pesak" visoke gustine
Ad blocker interference detected!
Wikia is a free-to-use site that makes money from advertising. We have a modified experience for viewers using ad blockers

Wikia is not accessible if you've made further modifications. Remove the custom ad blocker rule(s) and the page will load as expected.