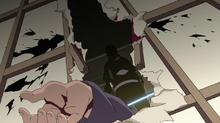 Pokolj Učiha klana je jedna od afera prilikom koje je skoro u potpunosti zbrisan ceu Učiha klan. Jednia dva člana koja nisu ubijena jesu Saske Učiha i osoba koja je počinila masakr Itači Učiha.
Pozadina
Pre masakra Itači je pričao sa Šisuijem, koji je od strane Daznoa Šimure izgubio desno oko.Šisui je rekao da se to desilo, kada je on pokušao da spreči puč, koje Učihe planiraju sa Kotoamatsukamijem.Šisuji potom daje Itačiju svoje levo Šaringan oko.Treći Hokage i njegova tri savetnika saznaju da Učihe planiraju puč, koji bi doveo do gradjanskog rata u selu, a druge nacij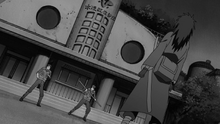 e i sela bi to iskoristile kao priliku da napadnu i izbio bi Veliki rat. Zato angažuju Itačija da im bude špijun. Kasnije se Danzo vidja sa Itačijem i govori mu da je Selu lista potreban dupli agent kako bi savladali Učihe. Itači stupa u kontakt sa Tobijem, i menja njegov plan da umesto celog sela pobije.
samo Učihe, pod uslovom da izostave Saskea. Vodje sela izuzev Trećeg hokage, podržavaju ovaj akt, a Treći biva nadglasan. Konačno Itači ubija sve članove klana izuzev Saskea, ostavivši svog brata u laži i želji za osvetom.Kada je ubijao svoje roditelje, oni nisu bil pod gendžicuom. Fugaki je rekao da iako su suprotnih mišljenja, on je ipak ponosan na Itačija, što štiti selo.Dok je zarivao sečivo u svoga oca i majku Itači je plakao.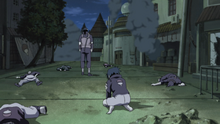 Zanimljivosti
Dosta stvari vezano za maskar je nerazjašnjeno. Takodje kroz čitanje mange i gledanje anime, može se zaključiti da autor brzo menja činjenice.
Svi preživeli članovi imaju mangekju šaringan.
Ad blocker interference detected!
Wikia is a free-to-use site that makes money from advertising. We have a modified experience for viewers using ad blockers

Wikia is not accessible if you've made further modifications. Remove the custom ad blocker rule(s) and the page will load as expected.