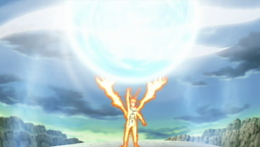 Veliki (Masivan) Rasenšuriken je nivo jači od običnog. Naruto da bi ga napravio, potrebno mu je mnogo više Čakre nego za običan Rasenšuriken. Mnogo je veći i jači od običnog.
Masivan Rasenšuriken

Ime

Japanski
Fūton: Chōōdama Rasenshuriken
Engleski
Wind Style: Massive Rasen Shuriken

Pojavljivanje

Manga
Poglavlje 634
Anime
Naruto Šipuden Epizoda 305
Pojavljivanje
Manga,Anime,Igra

Podaci

Klasifikacija
Nindžicu,Kindžicu
Rank
/
Klasa
Ofanzivna
Znakovi rukama
/
Korisnici



Ad blocker interference detected!
Wikia is a free-to-use site that makes money from advertising. We have a modified experience for viewers using ad blockers

Wikia is not accessible if you've made further modifications. Remove the custom ad blocker rule(s) and the page will load as expected.