Mebuki Haruno

春野メブキ Haruno Mebuki
Pojavljivanje
Anime
Naruto Šipuden Epizoda #271
Film
Road to Ninja: Naruto the Movie
Pojava
Anime, Film
Informacije
Pol
Ženski
Visina
Deo II: 172.5 cm
Selo
Selo Lišća
Nindža Rank
Porodica
Sakura Haruno (Ćerka)

Sarada Učiha (Unuka)

Kizaši Haruno (Muž)

Saske Učiha (Zet)
Mebuki Haruno
(春野メブキ, Haruno Mebuki) je kunoiči
Sela Lišća
. Takođe je član ujedinjenih majčinih snaga.
Pozadina
U animeu, kada je saznala da će Kakaši Hatake učiti njenu ćerku, posetila je Kakašija i trećeg Hokagea sa svojim mužem. Oboje su bili pozvani na čaj.
Ličnost
Mebuki izgleda kao brižna žena, što se vidi iz njene zabrinutosti tada zbunjenog stanja njene ćerke. Za razliku od njnog muža, ona je mnogo ozbiljnija što izaziva stalnu prepirku između para.
Koncept Kreacije
Iako se nije pojavljivala u mangi, Mebukijin lik i dizajn je stvorio Masaši Kišimoto lično, jer je i sam učestvovao u pravljenju filma Put do Nindže: Naruto Film. Kišimoto je naveo da je oduvek želeo da ih stavi u glavnom serijalu, ali nije mogao da nađe pravo vreme za to.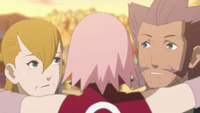 Ad blocker interference detected!
Wikia is a free-to-use site that makes money from advertising. We have a modified experience for viewers using ad blockers

Wikia is not accessible if you've made further modifications. Remove the custom ad blocker rule(s) and the page will load as expected.