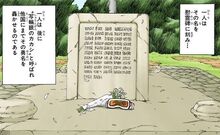 Memorijalni Spomeniik je spomenik u Selu Lišča koji prikazuje listu svih šinobija Sela Lišča koji su umrli u akciji da bi
zaštili svoje selo.U mangi izgleda kao obična nadgrobna ploča, dok je animeu njen izgled dosta promenjen iizgleda slično kao oštrica kunaija.Kakaši Hatake provodi dosta vremna ovde(što je uglavnom razlog njegovog kašnjenja) u čast Obitoa Učihe njegovog prijatelja.
Poznata Imena
Nigiri Umeboši
Ikaku Umino
Kohari Umino
Mudžini Anano
Zanimljivosti
U Naruto Šipuden Filmu:Naslednici Volje Vatre spomenik izgleda slično kao u mangi
Videti Takođe
- Konohino Groblje
Pojavljivanje
-Poglavlje 8, strana 9-10
-Poglavlje 137
-Poglavlje 139, strana 4, 8
-Naruto: Put Nindže
Ad blocker interference detected!
Wikia is a free-to-use site that makes money from advertising. We have a modified experience for viewers using ad blockers

Wikia is not accessible if you've made further modifications. Remove the custom ad blocker rule(s) and the page will load as expected.