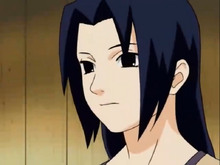 Mikoto Učiha je bila džonin iz sela sakrivenog među lišćem.
Pozadina
Posle udaje za Fugakua Učihu, Mikoto je ostavila svoju nindža karijeru i postala je domaćica. Neposredno pred porođaj njene prijateljice Kušine ona se srela sa njom zajedno sa svojim novorođenim sinom i odgovorila joj na pitanje da li je porođaj bio bolan.
Za vreme napada lisice na selo, Itači je primetio da su ona i njen muž odsutni od sela, nije poznato gde je bila za to vreme.
Posle masakra Učiha klana, Saske je pronašao njen leš na podu.
Sposobnosti
Malo se zna o njenoj karijeri kao kunoiči, ali se pretpostavlja da je bila moćan kunoiči kada je uspela da postane džonin.
Ličnost
Mikoto je prikazana kao ljubazna i nežna žena, ali takođe može da bude i veoma ozbiljna i stroga ukoliko je to potrebno. Pokazala je veliku ljubav i zabrinutost za svoje sinove, znala je kako da im pomogne. Za svog muža je pokazala veliko poštovanje.
Zanimljivosti
Nije poznato da li je Mikoto po rođenju postala član klana, ili posle udaje za Fugakua.
Itači je od nje nasledio najveće osobine, međutim Saske je više osobine nasledio od oca.