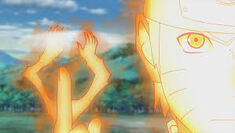 Ovo je jedna od varijacija Rasenšurikena koju je kreirao Naruto Uzumaki. Koristi svoju čakru da kreira 2 male čakra ruke na njegovom kažiprstu koje drže mali Rasenšuriken. Ova tehnika je slabija od originala ali je Naruto sa njom uspeo da raznese nogu klona Belog Zecua.
Ad blocker interference detected!
Wikia is a free-to-use site that makes money from advertising. We have a modified experience for viewers using ad blockers

Wikia is not accessible if you've made further modifications. Remove the custom ad blocker rule(s) and the page will load as expected.