Misumi Curugi (jap. 剣ミスミ,engl. Tsurugi Misumi)  je bio član Kabutovog tima genina, bio je jedan od Oročimaruovih špijuna u selu skrivenom u lišću.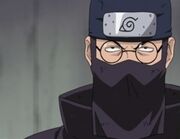 Pregled priče
Misumi Curugi je na čunin ispitu stigao do preliminearnog dela, tokom žreba je bio izabran da se bori sa Kankurom. Iako je mislio da je pobedio, Kankuro ga je nadmudrio i slomio mu sve kosti osim vrata i lobanje.
U animeu Joroji i Misumo se pojavljuju kao asistenti i telohraniteljji Amačija, bivšeg Oročimaruovog učenika. Dok se Joroji borio sa Šinom, Misumi se borio sa Ino, koja ga je kao i Kankuro nadmudrila svojom tehnikom zamene misli.
Zanimljivosti
Cuguri na japanskom znači mač, čineći Kabutov tim, tim mača, šlema i oklopa, asocirajući na samuraje, budući da Kabuto znači šlem na japanskom, a Joroi oklop.
Ad blocker interference detected!
Wikia is a free-to-use site that makes money from advertising. We have a modified experience for viewers using ad blockers

Wikia is not accessible if you've made further modifications. Remove the custom ad blocker rule(s) and the page will load as expected.