Mito Uzumaki

うずまきミト Uzumaki Mito
Pojavljivanje
Manga
Volume #53, Naruto Chapter #500
Anime
Naruto Šipuden Epizoda #247
Igrica
Naruto Shippūden: Ultimate Ninja Storm 3
Pojava
Anime, Manga, Igra
Informacije
Datum rođenja
3. Maj
Pol
Ženski
Visina
Deo II: 169.3 cm
Težina
Deo II: 48 kg
Krvna grupa
O
Repata Zver
Kurama
Klasifikacija
Džinčuriki

Senzorski tip

Klan
Uzumaki klan
Nindža Rank
Porodica
Haširama Sendžu (Muž)

Cunade (Unuka)

Navaki (Unuk)
Mito Uzumaki
(うずまきミト, 
Uzumaki Mito
) je bila kunoiči iz sela vrtloga i član Uzumaki klana, a kasnije se udala za prvog hokagea.
Pozadina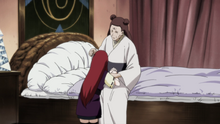 Mito je bila kunoiči sela vrtloga, kasnije kada se udala za Haširamu postala je stanovnik sela lista.
Nakon što je Haširama u borbi dobio Madaru i od njega oduzeo Kuramu, on ju je zapečatio u Mito. Tako je Mito postala prvi džindžuriki devetorepe lisice.
Pred kraj svog života, Mito je pronašla novog džindžurikija za devetorepu lisicu. Ona je izabrala Kušinu zbog njene specifične čakre. Savetovala je da na Kuraminu mržnju odgovara ljubavlju.
Ad blocker interference detected!
Wikia is a free-to-use site that makes money from advertising. We have a modified experience for viewers using ad blockers

Wikia is not accessible if you've made further modifications. Remove the custom ad blocker rule(s) and the page will load as expected.