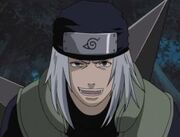 Mizuki ( ミズキ, Mizuki)  je prvi antagonista u mangi i anime Naruto. On je nindža čunin nivoa, koji je pokušao da otme svitak prvog hokagea.
Pozadina
Mizuki je poput Iruke bio siroče. U početku je voleo Iruku, ali polako postajao je frustriran kada hokage i ostali hvale Iruku i postaju prijatelji sa njim. Deluje kao da Mizuki pati od kompleksa inferiornosti, jer stalno teži da postigne moć. Takođe ume da manipuliše ljudima.
U fileru pred šipuden Mizuki beži iz zatvora i ponovo se bori sa Narutom i Irukom ovog puta pomoću kletve koje je dobio od Oročimarua.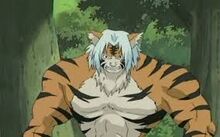 Sposobnosti
Mizukijeve sposobnosti u mangi nisu velike, ali u fileru pred šipuden njegove sposobnosti su drastično povećane. Može da koristi zemljani stil, lutkarski nindžicu, a ima i znak kletve.
Zanimljivosti
Mizuki u prevodu sa Japanskog znači dren.
Mizuki se u nekim prevodima prvog broja mange zvao Mikami.
Mizuki mrzi ramen, što je predstavljeno kao suprotnost Narutu koji ga obožava.
Ad blocker interference detected!
Wikia is a free-to-use site that makes money from advertising. We have a modified experience for viewers using ad blockers

Wikia is not accessible if you've made further modifications. Remove the custom ad blocker rule(s) and the page will load as expected.