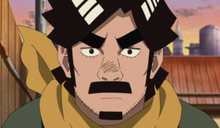 Pozadina
Moćni Dai je bio otac Gaia i večiti Genin, zbog čega su ga često ismevali. On je u bolnici pokazao ogromnu ljubav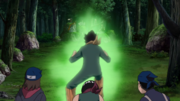 prema sinu. Sakumo je priznao da ga poznaje.On se jednom borio protiv Sedam mačevalaca Magle, zato što su upali u nihovu zamku. Iskoristio je tehniku osam kapija da ih sve pobedi.
Izgled
Dai ima karakteristične obrve kao Gai, i sličnu kosu. Imao je brkove.
Sposobnosti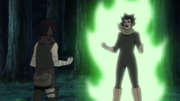 Moćni Dai je bio vešt u Tajdžicu borbi. Znao je džicu osam kapija.
Zanimljivosti
Dai je prvi poznati koristilac Taidžicu tehnike 8 unutrašnjih kapija(verovatno ih je on I izmislio)
Iako je bio genin bio je u stanju da se suprstavi elitnoj jedinici Sedam Mačevalaca Magle.
Kišimoto je izjavio kako je Daiev lik stvorio iz poštovanja tj. prema liku svog oca koji je preminuo u vreme kada je izašlo jedino poglavlje u kojem se pojavljuje Moćni Dai
Dai deli naziv "Večiti Genin" sa Kosukeom Marubošijem
Ad blocker interference detected!
Wikia is a free-to-use site that makes money from advertising. We have a modified experience for viewers using ad blockers

Wikia is not accessible if you've made further modifications. Remove the custom ad blocker rule(s) and the page will load as expected.