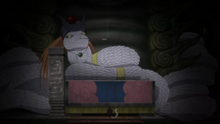 Mudrac bele zmije (白蛇仙人, Hakuja Sennin) je glavni starešina Rijučido pećine.
Pozadina
U nekom trenutku u prošlosti, Oročimaru je došao do Mudraca Bele Zmije u želji da nauči Sendžicu i naučio ga je. Godinama kasnije, i Kabuto je došao kod njega i tako naučio Sendžicu i Sejdž Mod.
Ad blocker interference detected!
Wikia is a free-to-use site that makes money from advertising. We have a modified experience for viewers using ad blockers

Wikia is not accessible if you've made further modifications. Remove the custom ad blocker rule(s) and the page will load as expected.