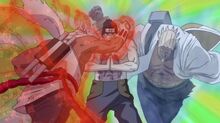 Dupli Lariat je moćni džicu A - Ranga koju zajedno mogu da koriste Kiler Bi i Ej. Jedan se zaleće na protivnika od napred a drugi od pozadi. Zatim oboica koriste Lariat sa dve različite i pogađaju protivnika. Na ovaj način su njih dvoica uspeli da "Kisameu" otkinu glavu.
Ad blocker interference detected!
Wikia is a free-to-use site that makes money from advertising. We have a modified experience for viewers using ad blockers

Wikia is not accessible if you've made further modifications. Remove the custom ad blocker rule(s) and the page will load as expected.