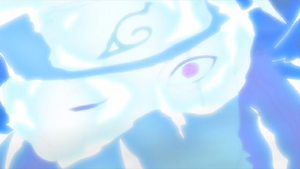 Ova tehnika omogućava korisniku da napravi klon senke koji u sebi sadrži munju. Pošto je ovo klon senka on može da obavlja druge tehnike po naređenju pravog tela. Ovj džicu je moćniji od običnog klona senke i to je tehnika A - Ranga. Kada je klon uništen pravi eksploziju munjevite čakre.
U Sakura Hidenu Kido Cumiki takođe može da iskoristi ovu tehniku
Ad blocker interference detected!
Wikia is a free-to-use site that makes money from advertising. We have a modified experience for viewers using ad blockers

Wikia is not accessible if you've made further modifications. Remove the custom ad blocker rule(s) and the page will load as expected.