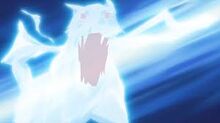 Ovaj džicu može da koristi samo Kakaši jer je za njega potrebno znanje Raikirija. Korisnik prikuplja čakru kao za raikiri samo što se ovaj put pojvljuje zver od munje koja trči na protivnika. Ipak ovaj džicu je slabiji od Raikirija jer zver nestane posle nekog vremena ako je protivnik na prevelikoj distanci.
Ad blocker interference detected!
Wikia is a free-to-use site that makes money from advertising. We have a modified experience for viewers using ad blockers

Wikia is not accessible if you've made further modifications. Remove the custom ad blocker rule(s) and the page will load as expected.