Naka Učiha

サスケ那珂 Uchiha Naka
Pojavljivanje
Anime
Naruto Šipuden epizoda #338
Pojava
Anime
Informacije
Pol
Muški
Visina
Deo II: 178 cm
Kekei Genkai
Šaringan
Mangekjo Šaringan
Zemlja
Zemlja Vatre
Selo
Selo Lišća
Klan
Učiha Klan
Nindža Rank
Naka Učiha (サスケ那珂, Uchiha Naka) je Šinobi Sela Lišća i pripadnik Učiha Klana.
Pozadina
Pošto je probudio Mangekjo Šaringan ovladao je zabranjenom tehnikom Izanagi.Zbog svjih novih sposobnosti ubijao je pripadnike svog Klana.Potom dolazi u sukob sa Naori koja ga pomoću Izanamija pobeđuje.
Umire pre ili u toku Masakra Učiha Klana.
Sposobnosti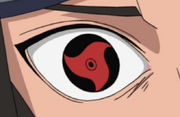 Kao član Učiha Klana Naka je bio u mogućnosti da probudi Učihama svojstven Kekei Genkai Šaringan i Mangekjo Šaringan,zbog buđenja tih sposobnosti bio je u stanju da koristi Izanagi,kao i mnoge druge Učiha tehnike.Njegov Mangekjo je po obliku bio nalik Itačijevom sem što je za razliku od većine Mangekjo Šaringana njegov imao crnu pozadinu a crven centralni deo, sem zenice koja je takođe bila crna.Pošto se u seriji(Animeu) pojavio sa Mačem predpostavlja se da je dobar u Kendžicu.
Zanimljivosti
Nakin Mangekjo dosta podseća na Itačijev.
Naka (南賀) znači "Južna srća".
Ad blocker interference detected!
Wikia is a free-to-use site that makes money from advertising. We have a modified experience for viewers using ad blockers

Wikia is not accessible if you've made further modifications. Remove the custom ad blocker rule(s) and the page will load as expected.