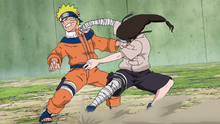 Nežni dlan je borbeni stil koji koriste članovi Hjuga klana. Korisnik prikuplja čakru u svoj dlan i njime pogađa protivnika. Takva čakra može da zaustavi ili poveća protok čakre kada udari u neku tačku na mreži čakre. Korisnik može i poslati čakru nekakvom vezom i tako napasti protivnika kao što je to Nedži uradio protiv Kimimaroa.
Ad blocker interference detected!
Wikia is a free-to-use site that makes money from advertising. We have a modified experience for viewers using ad blockers

Wikia is not accessible if you've made further modifications. Remove the custom ad blocker rule(s) and the page will load as expected.