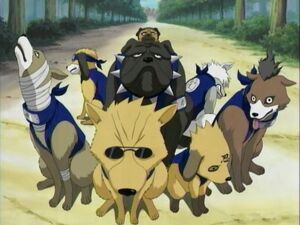 Nindža psi (Ninkeni) su posebni psi koji su obučavani da koriste nindža sposobnosti. Kakaši i Nagato su prikazali sposobnost za pozivanje nindža pasa, dok Inuzuka klan koristi nidža pse kao svoje partnere.
Lista Nindža pasa
Kakašijevi psi
Pakun
Bul
Uruši
Šiba
Bisuke
Akino
Uhei
Guruko
Psi Inuzuka Klana
Akamaru
Kuromaru
Tri Haimaru Brata
Ostali Psi
Džinovski Višeglavi Pas
Niovi Psi
Ad blocker interference detected!
Wikia is a free-to-use site that makes money from advertising. We have a modified experience for viewers using ad blockers

Wikia is not accessible if you've made further modifications. Remove the custom ad blocker rule(s) and the page will load as expected.