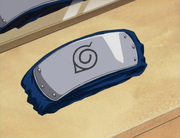 Nindža trake su jedne od operemi koje nindža mora da ima.One se dobijaju kada nindža diplomira i završi akademiju. To im služi kao štitnik za čelo, a istovremeno da kada se dve nindže bore, oboje mogu videti iz kog sela je protivnik jer nose te trake koje imaju simbol njihovih sela. Postoje tri različite trake. Metalne uzmimo za primer Kapetana Jamatoa i Drugog Hokagea Tobiramu. Postoje i u boji Crvena,Plava i Crna. Svaka traka mora da ima simbol svog sela. U slučaju da neki član izda svoje selo i pobegne u Akacki, onda on mora da precrta svoju traku da se vidi da je izdao selo. Uglavnom trake se nose na čelu, ali može i na ruci i na nozi takođe i na struku kao što Gai Sensej i Li imaju. Sakurina traka je okrenuta ka nebu što je malo neobično.
Različite trake po selima
Verzije traka
Ad blocker interference detected!
Wikia is a free-to-use site that makes money from advertising. We have a modified experience for viewers using ad blockers

Wikia is not accessible if you've made further modifications. Remove the custom ad blocker rule(s) and the page will load as expected.