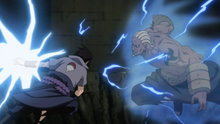 Nintaidžicu je termin koji se koristi da bi se opisao borbeni stil trećeg i četvrtog Raikage-a. Kombinacijom nindžicua i taidžicua, oni koriste nintaidžicu tako što se prvo okruže svojim munjevitim modom. Ovo povećava snagu fizičkih napada, čineći ih smrtonosnijim. Takodje povećava brzinu i reflekse. Nije poznato da li postoje drugi primeri nintaidžicua.
Ad blocker interference detected!
Wikia is a free-to-use site that makes money from advertising. We have a modified experience for viewers using ad blockers

Wikia is not accessible if you've made further modifications. Remove the custom ad blocker rule(s) and the page will load as expected.