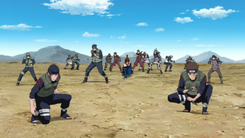 Ovaj odred je sastavljen za zaštitu feudalnih lordova tokom četvrtog šinobi svetskog rata. Glavni protivnik ovog odreda bio je Crni Zecu.
Istorija
Tim je delovao na strateškom osnovu, sa više zaštitnih kuća za feudalne lordove kako bi se zbunilo napadače. Ove kuće su bile zaštićene zamkama i nindžama koji bi sprečili otmicu ili napad na feudalne lordove. Lordovi su se konstantno i bezbedno selili iz kuće u kuću što je bio cilj ovog odreda.
Akacuki je poslao Crnog Zecua koji je trebao da uhvati lordove, koje bi kasnije koristili kao taoce u zamenu za Naruta i Kilerbija. U prvom pokušaju Crni Zecu upada u kuću u kojoj se nisu nalazili lordovi, ali čekao je u zasedi i iz drugog pokušaja uspeva da nađe svoj cilj. Na scenu stupa Odred za zaštitu na čelu sa Mei Terumi, kasnije im se pridružuje Narutov klon. Odred uspeva da pobedi i onesposobi gornju polovinu Crnog Zecua, dok donja polovina beži. Ovim činom odred se raspada, Genma, Ivasaši i Raido teleportiju (Letećim Munjevitim Gospodarom) Mei na drugo borbeno polje gde se sa ostalim Kageima bori protiv Madare.
Članovi
Mei Terumi (vođa odreda)
Genma Širanui (vođa teleportacionog odreda)
Raido Namiaši
Ivaši Tatami
Zanimljivosti
-Nakon borbe sa Crnim Zecuom, Čodžuro izlazi kao heroj odreda
Ad blocker interference detected!
Wikia is a free-to-use site that makes money from advertising. We have a modified experience for viewers using ad blockers

Wikia is not accessible if you've made further modifications. Remove the custom ad blocker rule(s) and the page will load as expected.