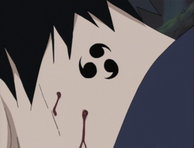 Oročimaruov džuindžicu je "dar" koji su određene osobe dobile od Oročimarua. Kada neko nauči da ga kontroliše uvećava mu se snaga. Postoji prvi nivo kada se snaga dosta uvećava, ali postoje i posledice. Drugi nivo je jači od prvog, ali su veće i posledice. Oročimaru ovu moć daje svojim sledbenicima kako bi bio siguran da ga neće napustiti. Razlog za toje je činjenica da Oročimaru u svakom trenutku može da aktivira pečat određene osobe i tako izazove strašan bol (slično kao prokleti pečat Hjuga klana). Postoji nekoliko vrsta ovog džuindžicua:
Nebeski Prokleti Pečat (Saske Učiha i Anko Mitaraši)
Zemaljski Prokleti Pečat (Kimimaro Kaguja)
Prokleti Pečat Četvorke Zvuka (Džirobo, Kidomaru, Sakon i Ukon, Tajuja)
Životinjski Prokleti Pečat (Mizuki) - Samo u Animeu
Transformacije
Pečati imaju dva različita nivoa, kao i vrste transformacija razlikuju se od pečata za zapitivanje. Kada je neaktivan pečat jednostavno ostavlja crnu mrlju na korisnika (Kod Saskea je to vrat, kod Anko takođe, a kod Kimimaroa grudi). Nakon aktivacije pečati se prostiru po koži i time malo uvećava snagu korisnika (Ovo je 1. nivo ), Drugi nivo je i zadnji nivo, korisnik se pretvara u "monstruma", i to mu daje 10 puta veću snagu nego pre. Drugi nivo se ne može odmah aktivirati nakon što se dobije prokleti pečat. Takođe prokleti pečat ne mora nikad da se aktivira, već samo da stoji kao mrlja, doduše ukoliko korisnik nema veliku količinu čakre najverovatnije će umreti od prokletog pečata. Anko nikada nije aktivirala svoj pečat jer se plašila da će umreti. Po snazi i fizičkoj promeni prokleti pečat podseća na sejdž mod.
Vrste
Ad blocker interference detected!
Wikia is a free-to-use site that makes money from advertising. We have a modified experience for viewers using ad blockers

Wikia is not accessible if you've made further modifications. Remove the custom ad blocker rule(s) and the page will load as expected.