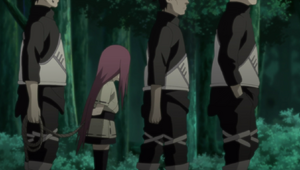 Pokušaj otmice Kušine Uzumaki je incident koji se desio izmedju Sela oblaka i Sela lišća.Neko iz Sela oblaka se zainteresovao za Kušininu jaku čakru. Poslate su tri nindže da je otmu. Kušina je čupala svoju dugu crvenu kosu, kako bi ostavila trag.Selo lišća je poslalo nindže za otmičarima, ali nisu uspeli da ih sustignu.Jedino je mladi Minato uspeo da ih sustigne i svalada nindže oblaka i spase Kušinu.Ovaj incident je značio prekretnicu u Kušininom i Minatovom odnosu, pošto su oboj shvatili da su zaljubljeni jedno u drugo, što je izrodilo vezu,spojenu crvenim nitima ljubavi, u vidu Kušinine kose.
Zanimljivosti
Kada su se susreli na bojnom polju, Četvrti raikage je izjavio za Minatoa, da je on osoba koja je uspela da porazi celu njihovu jedinicu za povratak Devetorepe lisice Kurame, što govori da Selo oblaka možda nije otelo Kušinu zbog čakre, već zbog lisice.
Ovaj incident je sličan Hjuga incidentu, samo što u ovom slučaju Selo oblaka nije dobro isplaniralo osnovni plan i nije imalo rezervni plan.
Ad blocker interference detected!
Wikia is a free-to-use site that makes money from advertising. We have a modified experience for viewers using ad blockers

Wikia is not accessible if you've made further modifications. Remove the custom ad blocker rule(s) and the page will load as expected.