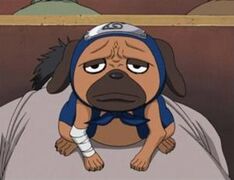 Pakun je jedan od Kakašijevih pasa, on je takođe najmanji od svih. On je načešće prizivan od svih ostalih i jedini je pričao u prvom delu.
Sposobnosti
Uprkos što je veoma mali, Pakun ke pokazao da je veoma koristan. On nije borbeni tim životinja, ali je veoma dobar pratilac.
Zanimljivosti
Prema animeu, rečeno je da je Pakun sa četiri meseca bio u stanju da kaže Kakašijevo ime.
Ad blocker interference detected!
Wikia is a free-to-use site that makes money from advertising. We have a modified experience for viewers using ad blockers

Wikia is not accessible if you've made further modifications. Remove the custom ad blocker rule(s) and the page will load as expected.