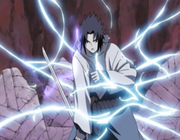 Protok Čidorija je jedan od oblika Čidorija koji je razvio Saske Učiha tokom treninga sa Oročimaruom. Protok Čidorija je malo jači od običnog Čidorija, ali uglavnom imaju iste efekte napada. Samo što se ovog puta munja uliva kroz celo Saskeovo telo a ne samo u Šaku. Ova tehnika takođe može služiti i kao odbrambeni potez.
Ad blocker interference detected!
Wikia is a free-to-use site that makes money from advertising. We have a modified experience for viewers using ad blockers

Wikia is not accessible if you've made further modifications. Remove the custom ad blocker rule(s) and the page will load as expected.