A (Prvi Raikage) je bio šinobi koji je osnovao Selo oblaka u Zemlji Munje. 
Pozadina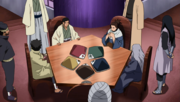 Viđen je na prvom sastanku pet kagea iz prve generacije, bio je u pratnji šinobija koji će kasnije postati Drugi Raikage. 
Ličnost
Izgled
Sposobnosti
Kao Raikage bio je veoma moćan šinobi.
Ad blocker interference detected!
Wikia is a free-to-use site that makes money from advertising. We have a modified experience for viewers using ad blockers

Wikia is not accessible if you've made further modifications. Remove the custom ad blocker rule(s) and the page will load as expected.