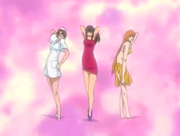 Puding Puding Tehnika (プリンプリンの術,Purin Purin no Jutsu) je varijacija Seksi Tehnike koju je kreirao Konohamaru Sarutobi. Ovo je timska tehnika koju izvode Konohamaru, Moegi i Udon istovremeno. Konohamaru se transformiše u Devojku nalik na Foto model ("Puding od vanile"), Moegi u Filmsku Zvezdu ("Vatreni Puding") a Udon u Salonsku Šminkerku ("Mlečni puding"). Cilj tehnike je da svo troje poskakuju grudima i tako šokiraju protivnika.
Zanimljivosti
U Japanu, pojam puding (purin) ili puding puding (purin purin) se koristi kao metafora za nešto što odskakuje i poskakuje kao ženski grudi.
Ad blocker interference detected!
Wikia is a free-to-use site that makes money from advertising. We have a modified experience for viewers using ad blockers

Wikia is not accessible if you've made further modifications. Remove the custom ad blocker rule(s) and the page will load as expected.