Raido Namiaši je nindža sela lišća.
Pozadina
Raido je elitni telohranitelj, radio je u službi četvrog hokagea.
Pregled priče
Prvi deo
Tokom završne runde u čunin ispitu on je napadnut od strane četvorke zvuka kako ne bi mogao da pomogne Hokageu u borbi. Posle povratka sa jedne misije, Genma i Raido su naleteli na četvorku zvuka i pošto su dolazili iz pravca konohe pitali ih šta to nose. Četvorka zvuka je iskoristila drugi nivo znaka kletve da bi pobedili Genmu i Raida. Potom Gemna i Raido bivaju pronadjeni od Šizune u veoma teškoj kondiciji i ona ih vodi nazad u Konohu.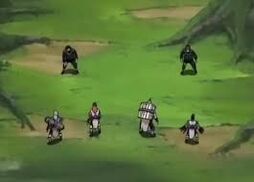 Drugi deo
Raido je u drugom delu bio član Nidžu Šotaija. Zajedno sa Inom, Čodžijem i Aobom je uleteo u borbu protiv Kakuzua i Hidana i uspeo da spase Izuma i Kotetcua. Poske odlaska Kakuzua i Hidana da zapečate dvorepu zver, vidjen je kako stoji nad Asumom i sluša njegove poslednje reči. Raido je zajedno sa Genmom bio smešten u odredu za zaštitu feudalnih lordova. Posle napada Zetsu armije, Raido se zajedno sa nekoliko nindži i Narutovim klonom bori protiv Zetsuovih klonova. Potom zajedno sa Genmom i jednim nepoznatim nindžom koristeći tehniku Četvrtog Hokagea prebacuje Mei Terumi na bojno polje. Posle ulaska pet kagea u borbu sa Madarom, Genma, Raido, Dodai i još jedan nindža vijaju Mua, drugog Cučikagea.
Ad blocker interference detected!
Wikia is a free-to-use site that makes money from advertising. We have a modified experience for viewers using ad blockers

Wikia is not accessible if you've made further modifications. Remove the custom ad blocker rule(s) and the page will load as expected.