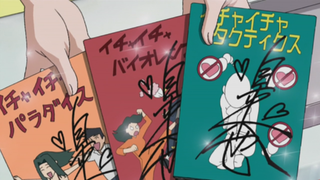 Raj za flertovanje  (イチャイチャ, Icha Icha)  je serija naprodavanijih romana koje Džeraja napisao. Malo se zna o radnji u romanu, ali se zna da se radi o strasnom ljubavnom životu muškarca i žene. Najveći obožavatelj ovih romana je Kakaši Hatake, i često je prikazan kako ih čita. Ovi romani su namenjeni osobama starijim od 18 godina.
Dve godine nakon Četvrtog šinobi rata Gara odučuje da pročita ovaj roman kako bi saznao nešto više o ljubavnim odnosima muškarca i žene.
Ad blocker interference detected!
Wikia is a free-to-use site that makes money from advertising. We have a modified experience for viewers using ad blockers

Wikia is not accessible if you've made further modifications. Remove the custom ad blocker rule(s) and the page will load as expected.