Četvrti Kazekage je prošli vodja sela peska, njegovo ime je Rasa. Otac je Gare, Kankura i Tamari, njegova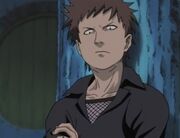 žena je Karura.
Pozadina
Posle smrti Trećeg Kazekagea, na vlast u selu peska došao je Četvrti Kazekage. Rasa se oženio Karurom, sestrom Četvrtove desne ruke Jašimaruoa.
Pri porodjaju sa Garom, Čijo savetnica Sela peska je odlučila da u Garu stave Duh jednorep
og Šukakua.Karura je umrla, govoreći da će uvek biti uz Garu i štiti ga.
Kada je Gara odrastao i pokazao svoje sposobnosti, četvrti je shvatio da je to bio loš izb
or, zbog Garine naravi Gara je napadao stanovnike bez ikakvog razloga. Pod pritiskom sa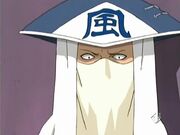 veta, četvrti je poslao Jašamarua da testira Garinu sposobnost da kontroliše Šukakua. Gara ranjava smrtno Jašimarua, a ovaj mu govori kako ga majka nije volela. Gara je zbog toga pobesneo i Šukaku je izašao napolje, Četvrti je iskoristio svoj zlatnu prašinu kako bi zaustavio zver. Posle ovoga, Četvri je slao ljude da ubiju Garu, ali svih šest pokušaja 
su propali. Kasnije kada je Gara stekao veću kontrol
u nad Šukakuom, zahvaljujući svojim novim idealima samoće, a četvrti je shvatio da možda ipak nije pogrešio.
Sposobnosti
Četvrti ima sličan stil borba kao i Gara, ali on umesto peska koristi svoj magnetni stil. Takodje može da koristi i treće oko. Uspeo je da pobedi Šukakua jer je njegov zlatna prašina teža od peska.
Ad blocker interference detected!
Wikia is a free-to-use site that makes money from advertising. We have a modified experience for viewers using ad blockers

Wikia is not accessible if you've made further modifications. Remove the custom ad blocker rule(s) and the page will load as expected.