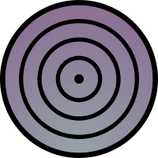 Rinegan
(輪廻眼, 
Literally meaning:
 Saṃsāra Eye) je jedan od tri velika Dojdžicua. Korisnik Rineganom može ovladati svim elementima čakre takođe ima potencijal da ovlada svim nindžicu tehnikama.
Pozadina
Prema legendi kada je svet u neredu osoba koja ima rinegan se šalje sa neba na zemlju da ga spase ili uništi. Nagato i Tobi su pomoću Rinegana mogli da upravljaju mrtvim telima. Kao i Šaringan i Rinegan može da upravlja repatim zverima. Rinegan može pročitati Rikudovu ploču bolje od Šaringana i Mangekjo Šaringana. Prvi čovek koji je posedovao Rinegan je bio Rikudo Senin, ali se verovalo da je to samo mit sve dok se nije pojavio kod Madara. Učiha Madara probudio je svoj Rinegan, kada je njegov život bio na kraju. On ga je presadio u Nagata, a kasnije u Obita. Da bi se probudio Rinegan potrebno je posedovati Ašura i Indra DNK. Madara je osoba sa Rineganom, dok su ga Nagato i Tobi presadili. Saske je dobio Rinegan kad dobije moći Indrine reinkarnacije.
Zanimljivosti
"Rinegan" (輪廻眼, Literally meaning: Saṃsāra Eye) znači u prevodu "Samsara oko", a Samsara su ciklusi budističke reinkarnacije.
Hagoromu Rinegan služi kao Kekei Mora, a ne kao Kekei Genkai.
Ad blocker interference detected!
Wikia is a free-to-use site that makes money from advertising. We have a modified experience for viewers using ad blockers

Wikia is not accessible if you've made further modifications. Remove the custom ad blocker rule(s) and the page will load as expected.