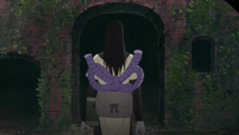 Rjučidou je legendarno mesto poput Planine Mojubaku. Može se smatrati prebivalištem velikih zmija, ovde je Oročimaru otkrio izvot Džugovih sposobnosti.
Oročimaru
i Kabuto su ovde trenirali svoj sendžicu.
Izgled
O Rjučidou se ne zna mnogo, osim slike na kojoj se vidi mudrac zmija, velika bela zmija, sa maramom vezanom oko glave i kuglom i sa statuom zmaja iznad sebe koja drži u zubima natpis Rjučido.
Ad blocker interference detected!
Wikia is a free-to-use site that makes money from advertising. We have a modified experience for viewers using ad blockers

Wikia is not accessible if you've made further modifications. Remove the custom ad blocker rule(s) and the page will load as expected.