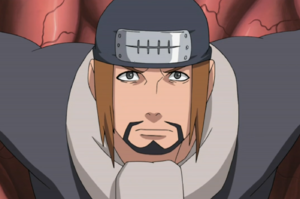 Rjusu je genin iz Sela kiše, lojalan Pejnu. On i njegov partner Judači su donosil Pejnu mrtva tela.
Pozadina
U animeu, Džeraja odlazi kod Tezune, žene Rjusua, koja radi kao kurtizana.Tu otkriva da Rjusu radi za Pejna.
Džeraja odmah postavlja zamku u vidu kuće oblika žabe.Rjusu i Judači upadaju u zamku, tj kuću koja je u stvari Džerajina žaba za prizivanje.
Kada ih je zarobio u stomaku svoje žabe, Džeraja je zahtevao da mu daju informacije.Pošto su odbili, Džeraja muči Judačija golicanjem perom.Pošto Judači ništa nije rekao, on ga pretvara u žabu i preti Rjusu da će i njega pretvoriti u žabu.Rjusu koji je u celoj toj priči ispao pričljiviji od Judačija, počinje da priča sve što zna o Pejnu.
Kasnije Džeraja koristi tehniku zaposedanja žaba, da udje u Rjusua i biva otkriven od strane Konan.Rjusu je pred početak borbe pobegao.
Ad blocker interference detected!
Wikia is a free-to-use site that makes money from advertising. We have a modified experience for viewers using ad blockers

Wikia is not accessible if you've made further modifications. Remove the custom ad blocker rule(s) and the page will load as expected.