Sasame je bila kunoiči iz Fuma klana iz zemlje pirinčanih polja.
Pozadina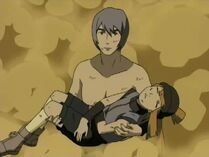 Bila je član fuma klana u vreme kada je Oročimaru došao u zemlju pirinčanih polja. U međuvremenu Araši i drugi članovi klana odlaze za Oročimaruom kako bi mu pokazali tajne tehnike svog klana. Nakon nekog vremena, sama je pošla u potragu za Arašijem kako bi ga vratila. Iznenada naleće na Naruta, Sakuru i Džeraju koji joj nude pomoć u pronalaženju Arašija. Oni stižu do Oročimaruovog skrovišta gde se bore sa Arašijem koji je izgubio razum.Jednog člana klana Fuma je Oročimaru transformisao u Kabuta, Naruto je boreći se sa njim upao u njegovu zamku gde su Narutovo i Kabutovo srce kao jedno, ali tad nailazi Sasame i spašava Naruta jer i sama pripada Fuma klanu i zna njegove tajne tehnike. Tada se pojavljuje zli Araši koji hoče da ih ubije. Međutim, pred kraj borbe se Arašiju vraća razum i on je štiti od smrti.
Ad blocker interference detected!
Wikia is a free-to-use site that makes money from advertising. We have a modified experience for viewers using ad blockers

Wikia is not accessible if you've made further modifications. Remove the custom ad blocker rule(s) and the page will load as expected.