Satori (サトリ, Satori) je demon, nalik demonskoj ptici,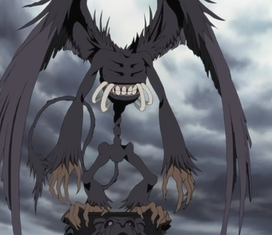 koji se pojavljuje u Naruto Šipuden Filmu: Krvavi zatvor.
Satori je demon koji je bio zatvoren u kutiji beskonačne sreće, Satorijeva prošlost je misterije, ali znamo da ga je Mui, koji je bio šinobi sela trave, i vladar Hozuki zamka, najvećeg zatvora, prizvao u filmu.
Od davnina, postojala je Kutija beskonačne sreće u selu trave. Priča se da su stanovnici zamalo zavladali svetom pomoću te kutije. Ako se kutija otvori, čovek koji ju je otvorio može da zamisli bilo koju želju, i kutija će da je ispuni. U ovom slučaju, Mui je poželeo da se njegov sin, koji je žrtvovan radi te kutije, vrati u život. Kutija je vratila njegovog sina Mukija, ali je on odmah ubio svog oca, i pretvorio se u Satorija, demona iz kutije. Satori je krenuo da usisava ljude (zatvorenike) u kutiju, a Naruto se u Sejdž modu borio sa njim. Nakon dolaska pojačanja iz Konohe, Muija i Rjuzecu, Naruto uspeva da ubije Satorija koji se na kraju vraća u oblik Mukija i oprašta sa svojim ocem.
Zanimljivosti
Satori može da čita šta srce kaže ljudima. Naruto je uspeo da ga pobedi tako što je izbacio sav strah iz svog srca.
Ad blocker interference detected!
Wikia is a free-to-use site that makes money from advertising. We have a modified experience for viewers using ad blockers

Wikia is not accessible if you've made further modifications. Remove the custom ad blocker rule(s) and the page will load as expected.