Sečivo Munje

Ime

Japanski
雷切
Engleski
Lightning Cutter, Lightning Blade

Pojavljivanje

Manga
Poglavlje #30
Anime
Naruto epizoda #17
Pojavljivanje
Manga, Anime

Podaci

Klasifikacija
Nindžicu
Rank
S-rank
Klasa
Ofanzivna
Znakovi rukama
Vo, Zec, Majmun
Korisnici

Kakaši Hatake
Hiruko (samo u filmu)



Sečivo munje (雷切, Raikiri) je poboljšani oblik Čidorija sa istim efektima. Pošto je Čidori sam po sebi moćan, Raikiri zahteva bolju kontrolu čakre i to dovodi do razlike u boji izmedju ove dve tehnike. Čidori je više beo dok je Raikiri plav. Takođe postoji i razlika u veličini (Raikiri je veći).
Upotreba
Kakaši
je pokazao različite načine formiranja i korišćenja Raikirija. U prvom delu kada se susreo da
Oročimaruom
, upotrebio ga je bez znaka rukama, a u drugom delu je u stanju da ga formira u obe ruke istovremeno.U prvom delu
Kakaši
može da ga koristi najviše 4 puta, dok ga u drugom delu koristi od 6 do 8 puta. Sečivo munje nije tehnika koja nanosi ogromnu štetu kao na primer
Kirin
, već je njena poenta da pogodi nešto vitalno na protivniku i tako ga ubije jednim ubodom.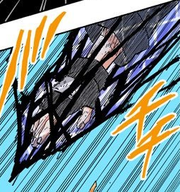 Poboljšanja
Nakon što je dobio Mangekjo Šaringan u oba oka od Obita i neke moći Mudraca Šest Staza, Kakaši je kombinovao ove moći sa Raikirijem. Koristeći Kamui zajedno sa ovom tehnikom naneo je veliku povredu Kaguji.
Zanimljivosti
U filmu Naruto Shippūden the Movie: The Will of Fire Hiroko je kopirao ovu tehniku.
Nakon što je izgubio Šaringan Kakaši više ne može dobro da izvede ovu tehniku pa je zato izmislio Stil Munje:Ljubičasti Elektricitet
Ad blocker interference detected!
Wikia is a free-to-use site that makes money from advertising. We have a modified experience for viewers using ad blockers

Wikia is not accessible if you've made further modifications. Remove the custom ad blocker rule(s) and the page will load as expected.