Sedam mačevalaca magle (霧の忍刀七人衆, Kiri no Shinobigatana Shichinin Shū) je grupa šinobija koji koriste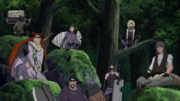 posebnu vrstu mačeva, a poreklom su iz Sela magle. Grupa može da broji samo sedam članova u isto vreme i tako se smenjuju generacije članova.
Pozadina
Po nekima sedam mačevalac je najopasnija i najkrvavija grupa boraca iz Sela Magle i šire. U početku, grupa je bila osmišljena tako da radi za Mizukagea ali su skoro svi članovi grupe postala nendža odmetnici. Za vreme dok je ova grupa delovala Selo Magle je bilo poznato kao Selo Krvave Magle. Razlog za to je bio surovi završni ispit na akademiji gde su učenici morali da ubijaju jedni druge kako bi postali genini. Jednog dana, dečak koji čak nije bio ni nindža je upao na završni ispit i pobio sve učenike. To je bio Zabuza Momoči koji je postao poznat kao Demon Skrivene Magle. Ovaj surovi ispit je uveo Jagura (Četvrti Mizukage) dok je bio pod kontrolom Tobija. U nekom trenutku u prošlosti prošla generacija mačevalaca se susrela sa timom genina kojei su činili Gaj, Genma i Ebisu. Spasao ih je Moćni Daj(Gajev otac) koji je iskoristio moć osam kapija kako bi zaštitio svoj tim od smrti i masakra koji bi im mačevaoci magle priredili. Kisame Hošigaki je bio jedini član organizacije koji je znao da je Jagura bio kontrolisan od strane Tobija što mu je Jagura lično rekao nakon Kisameove borbe sa Fugukijem. Godinama kasnije, gripa se raspala a njeni članovi su ili umrli ili pobegli iz sela i postali nindža odmetnici.
Članovi