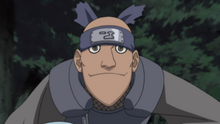 Ovaj bezimeni nindža iz Sela oblaka je sa svojim partenrom Sekieiom pokušao da otme Hinatu Hjugu zbog
Pozadina
Tokom čunin ispita, u Areni, kada je Kabuto Jakuši aktivirao svoj gendžicu, ovaj čovek i njegov partner su iskoristili šansu, da tokom konfuzije usled borbe, neometano otmu onesvešćenu Hinatu Hjugu, kako bi se dočepali Bjakugana.
Tokom bekstva iz Sela lišća, pratili su ih Nedži,TenTen i Kiba Inuzuka.
Kada su stali da predahnu,Hinata se osvestila i napala ćelavog nindžu.
Nedži Hjuga koristi priliku da odvućče duo zlikovaca, i na prevaru pomoću trnasformacije.Potom svojim tehnikama 64 tačke rotacije poražava ćelavog nindžu.
Izgled,sposobnosti, karakter
On je pogureni, ćelavi, nosati čovek, sa odećom pomalo u krpama.Uniforma mu je ista kao Sekieiova.Po karakteru je okrutan i nemilosrdan.Deluje kao da je Sekijej mozak iza otmice, a njegov partner obavlja prljav posao, kao što je nošenje onesvešćene Hinate.
Ad blocker interference detected!
Wikia is a free-to-use site that makes money from advertising. We have a modified experience for viewers using ad blockers

Wikia is not accessible if you've made further modifications. Remove the custom ad blocker rule(s) and the page will load as expected.