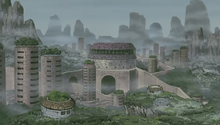 Selo skriveno u magli je jedno od pet velikih nindža sela iz Pet velikih nindža nacija. Vodja sela je Mizukage ili Vodena senka. Do sada su prikazana u animi i mangi 6 mizukagea.
Istorija
Malo se zna o istoriji sela. Drugi Mizukage je bio rival sa Drugim Cućikageom Muom. Njih dvojica su se u borbi poubijali. Posle Drugog Mizukagea usledio je treći, koji nije prikazan. Titula Četvrtog Mizukagea pripala je Jaguri Džindžurikiu Trorepe kornjače i jednoj od četiri osobe koja je zaista umela da kontroliše repatu zver ili Bidžu. Medjutim Jagura je bio kontrolisan od strane Tobija. Tobi je pomoću Jagure zaveo teroro u selu i zemlji i selo je dobilo ime Selo krvave magle. Tobi i njegova žrtva Jagura uzimaju za svog egzekutora Kisamea Hošigakija, koji je ubio prethodnog vlasnika Samehade i proglašavaju ga pripadnikom Sedam mačevalaca magle, obećavši mu da više neće živeti ,,život pun laži. U to vreme Zabuza Momoči je pokušao atentat i puč protiv Jagure koji je propao. Peti Mizukage Mei Terumi je predpostavljala da je Jagura bio kontrolisan.Selo magle je učestvovalo u trećem šinobi svetskom ratu. Kaguja klan je pokušao da uništi selo magle.
Mizukage Lista
Mizukage - Bjakuren
Mizukage - Gengecu
Mizukage - Ne zna mu se ime
Mizukage - Jagura
Mizukage - Mei
Mizukage - Čodžuro
Klanovi
Zanimljivosti
Selo skriveno u magli ili Kirigakure dobilo je ime po Kirigakure Saitou prijatelju i rivalu Saske Sarutobija. Moguće je da je Kišimoto Masaši na ovaj način došao do ideje za imena sela.
Ad blocker interference detected!
Wikia is a free-to-use site that makes money from advertising. We have a modified experience for viewers using ad blockers

Wikia is not accessible if you've made further modifications. Remove the custom ad blocker rule(s) and the page will load as expected.